The 2018 edition of the Motor City Comic Con is in the books! The Motor City Comic Con is always one that I look forward to each year because it never ceases to amaze me in how consistently good it is. The three-day con ran from Friday May 18th through Sunday May 20th, and featured events for attendees of all ages. The guest list featured no shortage of star power, as actors and actresses from TV and Film's biggest franchises were on hand. From start to finish, Motor City Comic Con is typically one of the best cons all year. We got to spend all three days inside the Suburban Showcase Collection for Motor City Comic Con, here's what went down over the weekend.
Things kicked off on Friday, and the show was already very busy by the time we'd arrived. Press check in went off without a hitch, and it took less than 5 minutes for us to snag our credentials and hit the floor. There was a certain buzz in the air, a feeling of excitement as more and more attendees filled the Suburban Showcase Collection. We generally spend the first hour or so of each con figuring out where certain vendors are, and familiarizing ourselves with the overall layout of the floor. Maria found her favorite comic vendor within minutes, which meant we'd for sure be buying comics at some point during the show. After getting better acquainted with the layout, we headed over to the celebrity meet and greet section of the con. We saw tables for all the kids from the movie 'IT', 'Games Of Thrones' star Jerome Flynn, 'Fear The Walking Dead's' Jenna Elfman, and many more. There was even a memorial table for Margot Kidder, who was set to attend the Comic Con, but sadly passed away a few days before the event.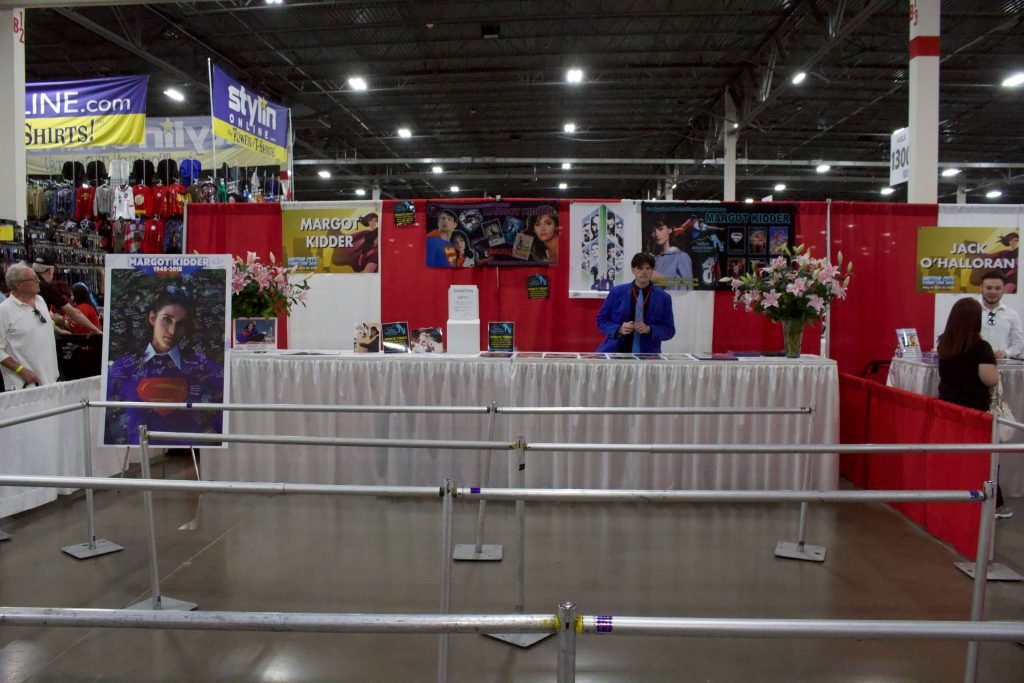 Saturday was cosplay day, and we couldn't have been more excited! Maria and I redid our Stranger Things cosplay as Max and Lucas, while Robbie did his thing as Disney's reluctant hero Demigod, Maui. While there were a few people who recognized who Maria and I were cosplaying, the real star of the weekend was of course Robbie. So many people loved seeing his take on Maui, and it was really awesome to see him break out of his shell. There were scores of other awesome cosplay on display all day Saturday, with some of the more elaborate cosplayers showing up later in the day. The costume contest is usually held on Saturday evening, which draws the best cosplayers from the area to the event. We hung out in the lobby area waiting for the Cosplay contest to start, and then a wave of nausea and fatigue hit me like a freight train. I tried to push through, but I was already too far gone, so we ended our night a bit early, to retreat and hopefully recuperate.
Sunday was a bit of an interesting day for me, as I walked the show floor for a bit, and went to a panel. At this point, I was so firmly taken over by whatever "con crud" I'd contracted, that my body and brain had gone full auto pilot. Robbie wanted to cosplay for a second day, so Maria whipped out her makeup kit, and transformed him into a mini Freddy Kruger. I was also super pumped to catch the Rob Paulsen panel, that nothing short of death would stop me from going. I'm glad I decided to tough it out, because Paulsen did about an hour of the most insightful, honest, and hilarious personal commentary I think I've ever heard. It was also super awesome to Find out that he was a fellow Michigander.
The panel was essentially the conclusion of our weekend at Motor City Comic Con, as I was completely tuckered out at that point. The show was once again an excellent one, and has really set the gold standard, at least for comic cons in Michigan. I'd like to think there would be much more to speak on had I not gotten sick, but even with that I still had a great time. Motor City Comic Con has become a staple in our con lineup, and I'm already excited to see how next year turns out.