We landed in the Windy City for another edition of the C2E2 Comic Con! This year's con was amazing and had a ton of guests, panels, and special events to choose from. C2E2 celebrated their tenth year of business, and the show was definitely bigger than previous editions. Running Friday through Sunday at the McCormick Place in Chicago, IL we had a major blast attending. We've been highly critical of C2E2 in the past, but this year's con was definitely a step in the right direction.
We rolled into town in the middle of the afternoon on Friday, and the con was already in full swing. As pro wrestling is undergoing a bit of a resurgence, it was cool to see that C2E2 was proudly embracing it. AEW stars Kenny Omega and The Young Bucks had a pretty prominent role all weekend, and there were also appearances from other major wrestling stars. The show was already insanely busy by the time we'd arrived, and the intensity of attendance magnified over the weekend.
As we walked around on Friday, I came across a very important piece of intel. Famed wrestling podcaster Conrad Thompson, was having a special panel that blended two of his shows into one fun packed, profanity laced live show, that was can't miss for wrestling fans. I booked two tickets to the show without hesitation, and I'm so glad I got to attend. The show was absolutely amazing, and while listening to the podcast is one thing, these guys together live is a whole different experience. Conrad Thompson was joined by Tony Schiavone and Eric Bischoff as the trio dished on some of the greatest hits and misses from WCW. Eric was fiery but passionate, and you could tell he really loved his time in WCW. Schiavone was masterful in his storytelling. Weaving between hilarity, seriousness, and comical Ric Flair stories, he proved why he was the voice of WCW for so long.
C2E2 2019 was easily one of the most stacked cons (Outside of SDCC) that I've ever attended. Some of the biggest, most loyal fandoms were catered to this year, and attendance definitely reflected that. Strong franchises like Doctor Who, Animaniacs, Dragon Ball Z, Marvel Comics, DC Comics, you name it, they were there.
Saturday is typically the busiest day at any comic con, but this year that business was multiplied about 30 times. We had actually got into the building early because Maria decided to cosplay and we wanted to get a jump on the crowd. Well, as all things comic con happen to be, our early is never early enough. The McCormick Place was already stuffed to capacity, with thousands of attendees already present. After getting through the new security check point, we made our way onto the main show floor. The building was already buzzing with excitement, and we couldn't wait to be a part of it.
One of my single most favorite things about comic con, is getting to interact with the cosplay community. I may not always dress up myself, but I always enjoy a good costume. There were cosplayers representing classic film and tv franchises, video game and comic book characters, and even pro wrestlers. In fact, with so many different inspirations for costumes, it's often difficult to catch all the good cosplay that happens over the course of the weekend. In an effort to not look like a creeper, we try to keep ourselves from chasing after the really awesome stuff that we see. Most times we succeed, other times…..Not so much.
Sunday was the final day of our adventures at C2E2, and we ended it with a bang. We packed all our things, loaded up our car, checked out of our hotel and booked it to the convention. We had two major missions before we could consider the weekend a success. Objective one: Obtain a chocolate churro. Objective two: Go see David Tennant's panel at 11. We'd foolishly thought we had enough time, as we got to the building a whole 45 minutes before the con started. We patiently waited in line to be let in and once they started allowing people into the show, it was off to the races. We successfully obtained our chocolate churros and they were everything I was hoping it'd be; sugary, chocolatey, and guaranteed to give me heartburn later. The day was already off to a great start, but little did I know, things were about to take a rather stressful turn.
After demolishing a churro, we made our way to the south building, determined to get fantastic seats for the David Tennant panel. We knew things were going to be great because we had gotten there so early, but boy were we wrong. As soon as we turned the final corner before getting to the room for the main stage, we were greeted by about 150 people who obviously had their priorities in check. They must've felt it important to skip the deliciousness of a chocolate churro, for a better seat at this coveted panel. After about five minutes of waiting, we were told we had been officially designated the "stand by line." Those words can be devastating to experienced con-goers because it usually means if the VIPs and people ahead of you pack the joint to capacity, there'll be no panel for you.
We waited in line with bated breath, as the line master calculated how many people he'd allow inside the main stage. Another gentleman in front of him guarded the door with a ferocity of a junk yard dog. He watched the line carefully, as they started to grant people ahead of us access to the panel. Every new body that came in, he made sure to record their presence with a pink counter, ensuring they didn't go over capacity. The line moved slowly, I was sure the next person they let in would be the last, and we'd be forced to sit this one out. Then they let more, and more people in, until finally we too, were granted access. Ironically enough, after we got in, there was a flood of people who followed behind. It was almost as if the line master could sense my fear of not being let in, and turned it into some sort of twisted game. Or maybe not.
We made it inside and after about 20 minutes, David Tennant hit the stage. I was immediately reminded of why I'd become such a big fan of his. He was funny, charming, thoughtful, and insanely insightful. In short, he is in real life, essentially like the Tenth Doctor. Tennant spent majority of the panel waxing poetic about his roles in Doctor Who, Jessica Jones, and his latest project called 'Good Omens.' It was a great time, and I'd encourage anyone who gets the chance, to attend a David Tennant panel. You won't walk away disappointed.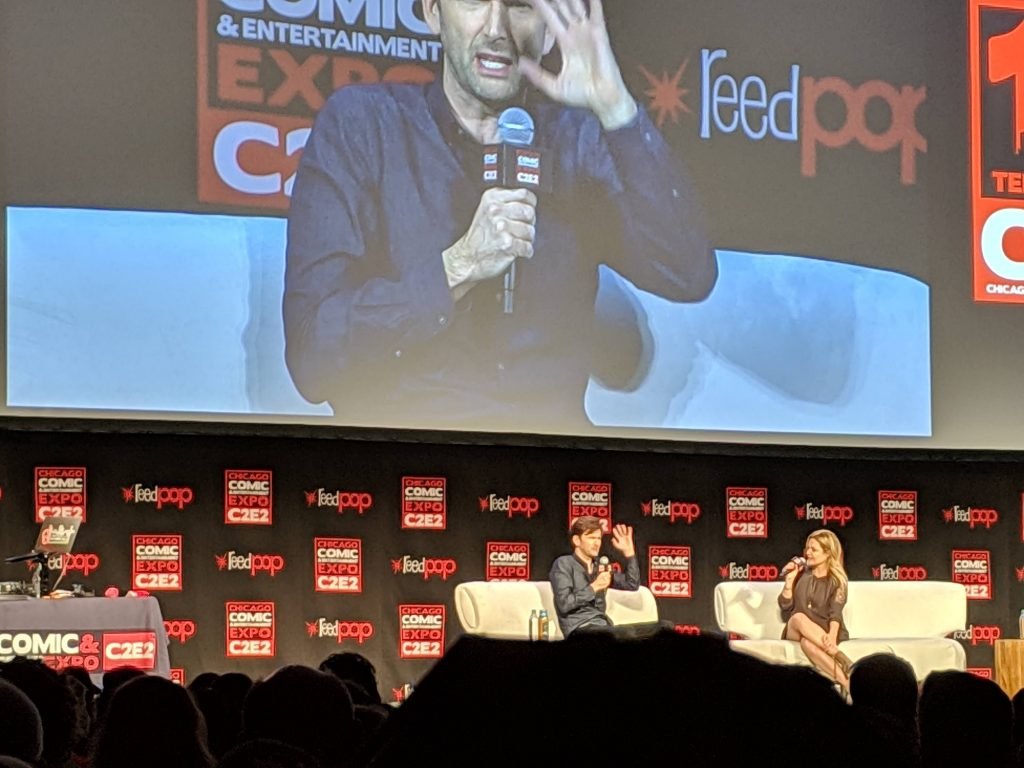 After the panel, we were all comic conned out, so we decided to hop in the car and begin our 4 and a half hour drive back home. This weekend was an incredible one, and C2E2 2019 has already cemented its place as one of my all-time favorites to attend. If this is something the show runners can keep up with in future installments, the C2E2 comic con will be one that sits at the top of the chain as a can't miss event.