Every year at San Diego Comic Con, there are off-site events and "experiences" based around the biggest franchises of the moment. There's everything from Walking Dead, to Mr. Robot and everything in between. This years San Diego Comic Con played host to one of the coolest experiences I've ever been a part of. HBO partnered with New York based marketing firm Campfire, to produce an experience based off the smash-hit show, Westworld. Like the show, the event was VERY exclusive, with only about 100 guests attending the experience per day between Thursday and Sunday. For correlation, there's usually about 150,000 people on site for Comic Con during that time frame.
Even with attending Comic Con with a press pass, my chances of getting in were slim to none. Still, I took a chance on the final night that passes were given out, hoping that I'd somehow pull it off. I got in line at 9:30PM Friday night, and didn't get concrete confirmation that I'd have a chance to go until 11:30AM the next day. Time was not my friend. Booked directly against my departure time for my flight back home, I still took a chance to check out this exhibit. I'd heard some things about it from people who'd previously attended, and it was definitely something I was not willing to miss.
Waiting in line at the Hilton Bayfront hotel, I could see a taller blonde gentleman, and a woman seated at a desk. They were both dressed in all white, and almost robotic in their mannerisms – mirror images of the "hosts" from the show. Maria and I stepped up to set our appointment next. The hosts were very straight and to the point, they enunciated every part of every word they said, and they were very deliberate in what they said. The highlights of their spiel included playing up the fact that we were lucky to be getting passes, the importance of not being late (as was said about five times during the presentation), and that we'd be experiencing something unlike anything else at the con. We received our appointment cards, snapped a photo with the hosts and went to prepare for our adventure the next day.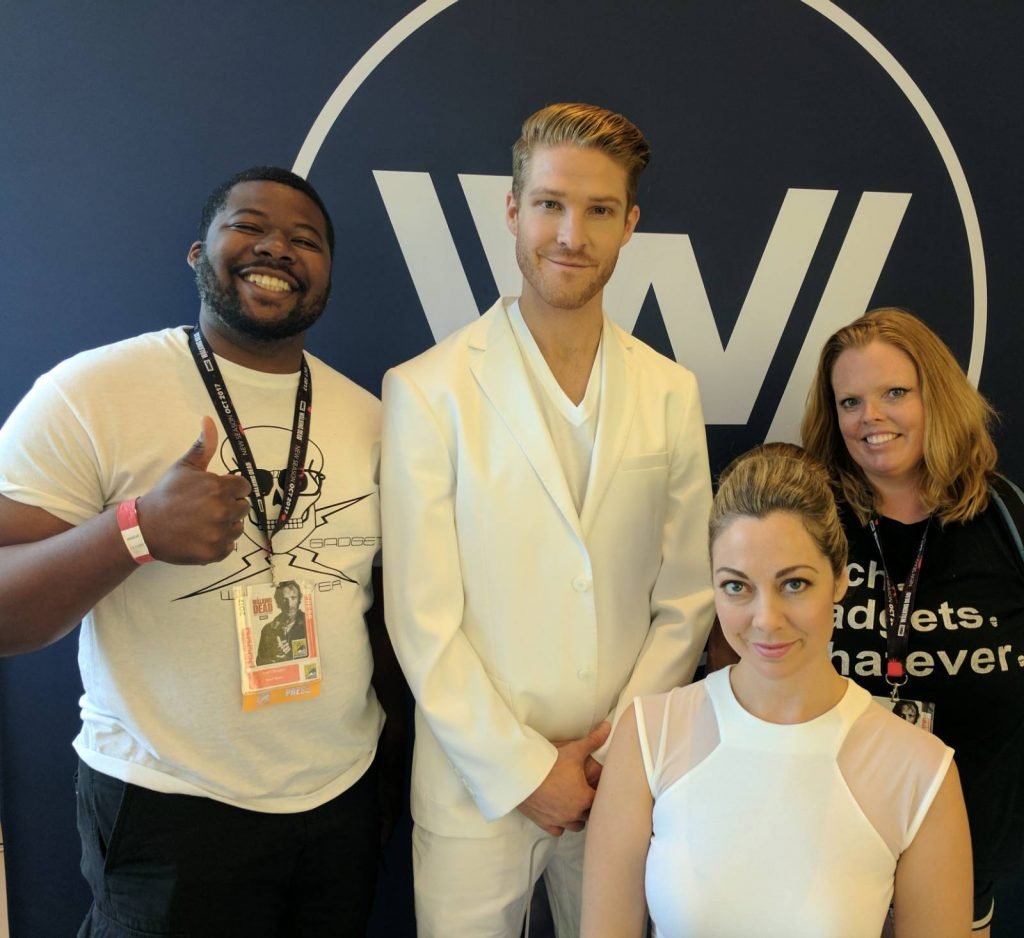 We arrived to our appointment super early at the hotel the experience was being held at. We don't want to give anything away just in case, but it was nestled in the middle of the Gaslamp district. Close enough to be walkable from the convention center, but just far enough to make it a pain to get to. We walked inside our destination and were immediately met by another man in white, he checked us in and acted as out escort into the experience. Maria and I, along with four other guests hopped on an elevator and headed into the Delos headquarters. Once there, the entrance to the experience looked like the entrance to one of the main offices inside the Westworld park from the TV show. We walked in, and had our minds blown by the accuracy of the set and actors playing hosts from the park.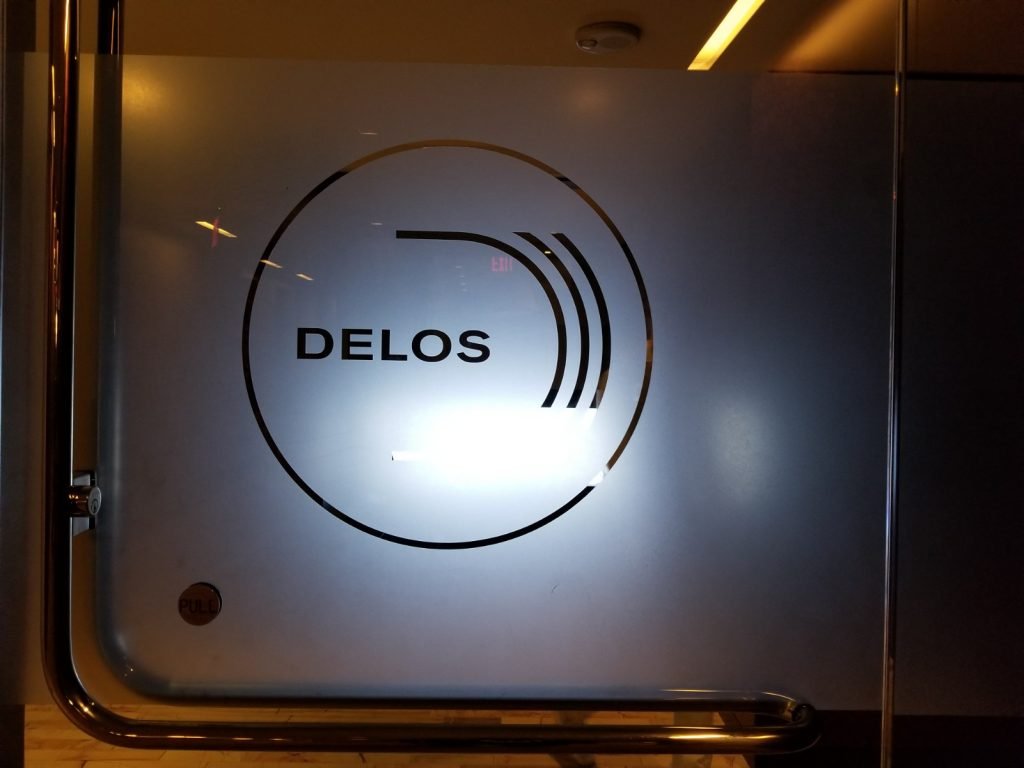 Once inside, myself, Maria, and another gentleman waited around to be taken through the actual experience. We were encouraged to interact with the hosts, which I did with great fare. I was honestly startled by how well the actors playing hosts performed. The interactions with them ranged from informative, to outright awkward, blurring the lines between human and AI interaction. I chatted up a host with the specific intention of trying to get him to break character. Spoiler alert: he didn't. I asked him how long he'd been working for Delos and he responded with a very deliberate "For as long as I can remember." I asked again, this time probing for a specific time frame, but he once again played the role of animatronic perfectly, remarking "Forever could feel like a long time." While talking, I was thrown off by the constant sound of clanking and loud grunts. I turned to investigate and was met by a giant "SW" on the door, then it hit me… They're totally teasing Samurai World here. Our host made sure to let us know that we were only going to be exploring Westworld today.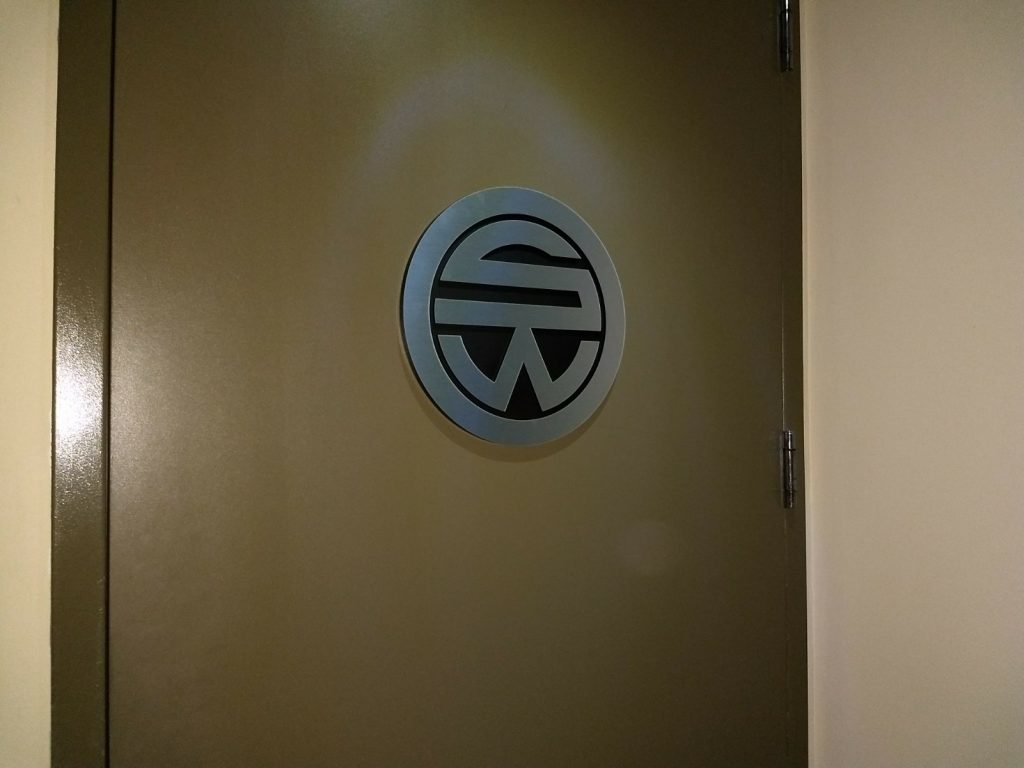 We were then temporarily separated and directed into separate rooms where we would receive an impromptu psychological evaluation. The goal was to find out whether or not we were mentally fit to experience the park. At the end, based on your answers, you were given one of two hats: Black or white. My questions were pretty intense, but the one that freaked me out most was one about losing a finger. I was asked, "If you had to sever one of your fingers, which one would you choose?" I looked at both hands, and went with the index finger on my left hand (I'm a righty by default). I thought this was just a harmless question, until the evaluator asked me to draw a big 'X' on that finger. Thankfully, I was able to keep it, and was awarded a white hat. I walked out of the room and met up with Maria and the other guest from our group, who was the sole one of us wearing a black hat.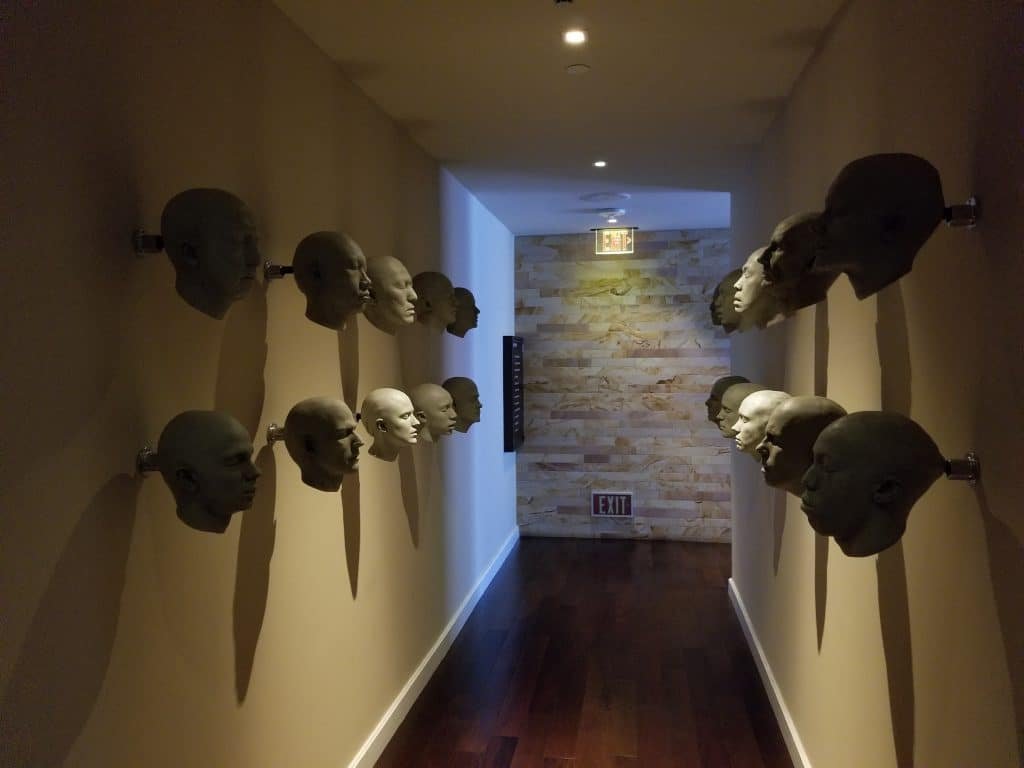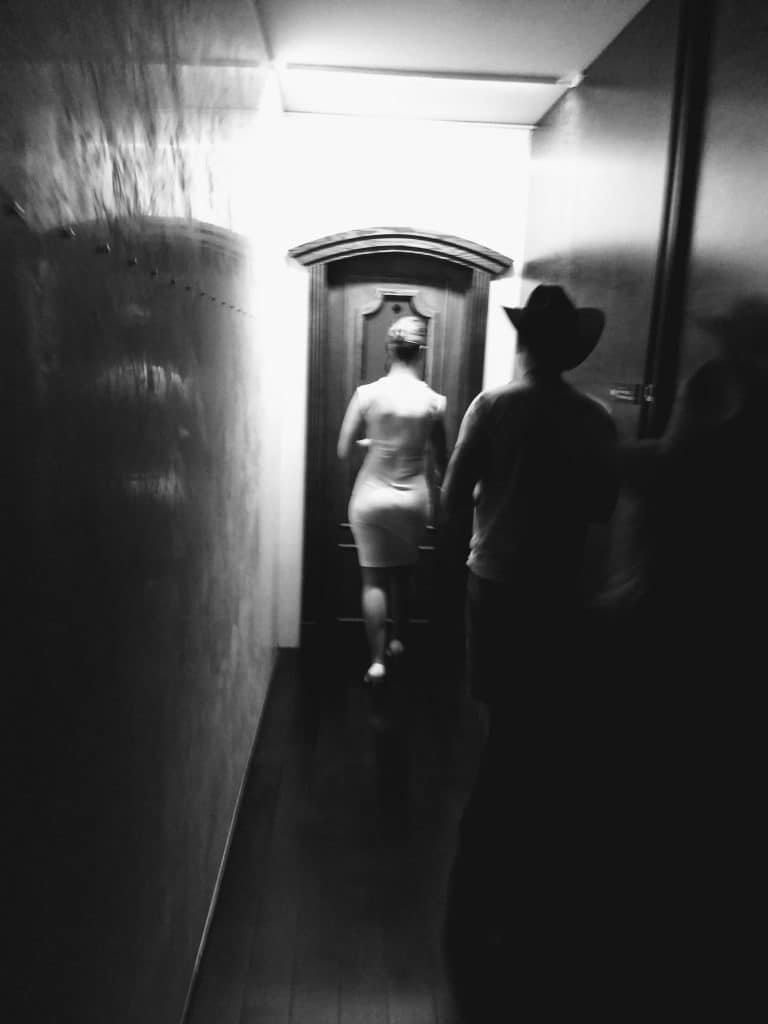 We reconnected with a female host who walked us through the next part of the experience. The entire experience was photo and video friendly except for what we were about to do. She walked us to a monitor and showed us a promotional video about the park. The video started to glitch, and so did our host. The lights dimmed and turned blood-red. Our host convulsed, and then slumped, almost as if she were rebooted. Once she recovered, our host had set a laser like gaze on the gentleman in the black hat, and shot him a look of pure hatred. If we were ever in danger, this would've probably been the part. The video concluded with the man in black seated, bloodied, and seemingly enjoying the chaos around him. The video returned to normal, as did our host and we proceeded to the final part of the tour.
We were treated to a smaller recreation of the Mariposa Saloon, complete with professional mixologists, and a madame loosely based on the Maeve character. The final piece of the tour saw us being treated to a couple of adult beverages, and then being shown the famous self playing piano from the saloon. In an interesting turn of events, the player had a note sheet on it, that was covered on blood spatter in one part. When we asked the host about it, she innocently replied "looks like nothing to me," and showed us to the exit of the exhibit.
It was really cool to be dropped into an experience as deliberated and accurate as this. The team that put this together should be really proud of their work, as it truly felt like we experienced a piece of the actual Westworld park. Thankfully there wasn't a revolt involving the hosts, but there's always next year.