Smartphone manufacturers have been scrambling to come up with the next great phone. Keeping up with the monster sales of the iPhone and Samsung's Galaxy devices would be a daunting task for anyone. LG in particular has tried several different approaches to design, with each one facing a different scrutiny. The LG G3 and G4 weren't "premium" enough. The G5 was cool because it was modular, but too weird. There always seems to be something fatally wrong with LG phones that causes consumers to overlook them. LG went back to the drawing board and created the LG G6 with the intention of creating a truly premium device, that gave you no choice but to take a second look. I got to spend a month with the LG G6 on Verizon Wireless, in an effort to find out if it was indeed a worthy challenger to the iPhone or Galaxy S8. Read on to find out if it's worth your time.
When I first cracked open my FedEx pack containing the G6, I immediately noticed how remarkably minimalist the packaging had gotten. The box was sharply square, and very simple. The way it opened, instantly reminded me of the boxes the iPhones are packaged in. When I opened the box, I was greeted by the G6 and I have to admit, it's a really good-looking phone. My review unit was a really deep black, similar to the jet black iPhone. It has a bit of heft to it, but a good heft. It weighs more than the Galaxy S8, which by comparison feels like a toy. The G6 also has a more squared front, and a slightly curved back, which makes it feel really good when held. Part of what makes the phone have that hefty feel, is the device being made with metal and glass. The back panel is constructed with Gorilla Glass 5 which adds to the durability, but did nothing to prevent it from scratching in my pockets. The biggest trend with 2017 smartphones has been manufacturers minimizing bezels in favor of larger displays. Samsung did it, Apple is rumored to be doing it, LG is also following suit. The screen on the G6 is a 5.7 inch Full Vision Quad HD display, packing a whopping 564 ppi. There's also the 18:9 aspect ratio which gives you an even better full screen experience than standard device screens. LG is also utilizing Dolby Vision HDR for enhanced brightness and better contrast. In short, the display rocks.
The tech on the G6 is in line with what you'd expect from a flagship smartphone. There's a non-removable 3,300 mAh battery powering the G6, alongside a quad-core 2.3 GHz Snapdragon 821 and 4 Gigs of RAM powering this beast. There's also 64GB of memory onboard, and an SD slot capable of supporting MicroSD cards of up to 2TB. The G6 ran with no fail and hardly any stutter or lag. Apps ran beautifully, but the biggest issue that I ran into, was the battery couldn't keep up. Battery life was way below average, and kind of put a damper on actually using the device. Having to recharge as often as 5 hours off charger was not ideal, and even with fast charge and wireless charging it was still a nuisance. Along the back of the device is the fingerprint reader which works amazingly well. The bottom of the device houses the speaker, and a USB Type C charging port.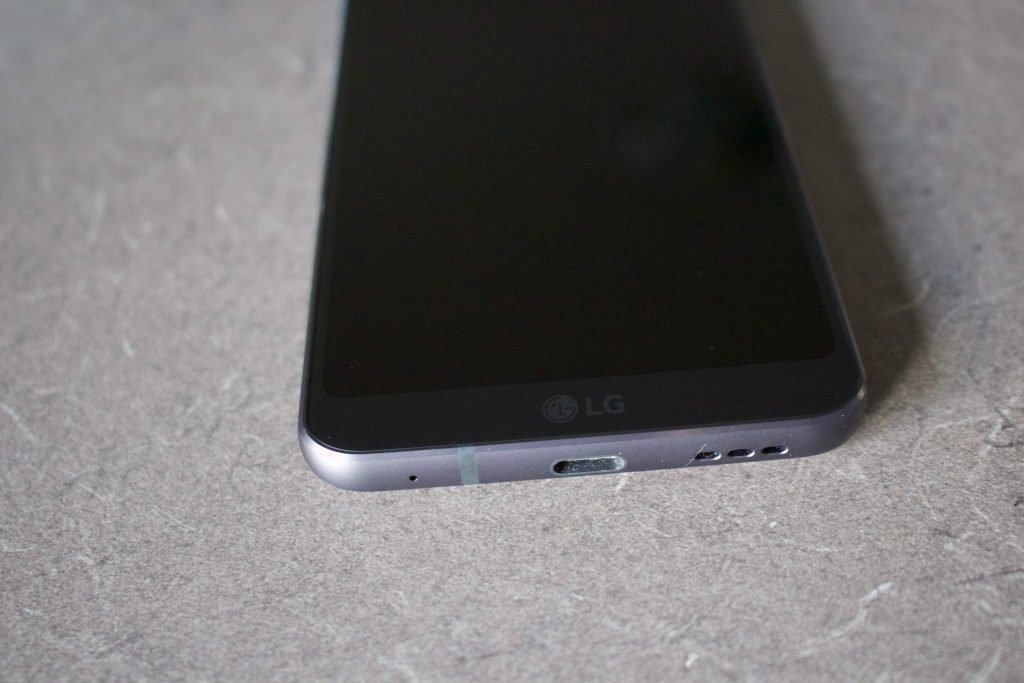 The LG G6 sports a three camera system, with one on the front and two on the back. The Front camera is 5MP and has a wide-angle sensor for selfies. On the back there's a standard 13MP camera and a secondary 13MP wide-angle sensor. If I had to say which camera was the absolute worst, I'd definitely say it was the front camera. Any sort of direct light caused photos to turn out really noisy and grainy, while even in good lighting photo quality was sub par. The rear cameras were better, but not by much. It got down right frustrating trying to capture a picture that didn't have a ton of noise in it. While comparing the camera on the G6 to my nearly two-year old Nexus 6P, the Nexus came out on top nearly every time. Super disappointing to use a camera from a flagship in 2017 that isn't as good as a camera from a flagship from 2015.
Using the G6 was really bittersweet for me. I really, really want LG to succeed. I really want them to be great, and be sitting at the table with Apple, Samsung, and hell even One Plus at this point. The unfortunate truth however, is that while LG makes solid improvements year after year, they seem to always drop the ball in other areas. LG makes good hardware that could be great. While I'm not convinced that LG is going to go the way of the dinosaur just yet, they'll have to continue to innovate and out innovate their competition in order to remain relevant. In the meanwhile, the G6 may be the most passable smartphone this year.