One of the surprise hit phones from last year just so happened to be a Motorola release. The Moto Z Play turned heads with its highly unusual design and mind-boggling battery life. Moto and Lenovo found the perfect balance with the Moto Z Play, combining high-end specs and design, with a mid-range price point. This year Moto is looking to repeat the successes they had with both Moto Z devices from last year. The Moto Z2 Play aims to keep the company at the top of an ever-growing list of feature packed Android devices.
At first glance, the Moto Z2 Play is a gorgeously built phone. The design has been changed from an extremely fingerprint vulnerable glass back, to an all metal one. The Z2 is also a full 20 grams lighter and a millimeter thinner than its predecessor. Reading that, it doesn't sound like a big deal, but I'll be the first to say this phone is so thin, it's almost jarring.
Moto didn't change the display at all, leaving the 5.5 inch Super AMOLED display intact. This display is actually pretty solid, excelling at displaying truer colors, without washout, or over saturation. The right side of the device houses both volume buttons and the power key, the bottom of the device has a 3.5mm headphone port (YAY!) and the USB C connector. On the bottom of the display is a fingerprint sensor and around back is where the Moto Mods connector rests.
In what is perhaps the biggest disappointment with the Moto Z2 Play, Motorola decided to sacrifice battery life for slimness. The OG Moto Z rocked a 3,510 mAh battery, while the Z2 play only has a 3,000 mAh battery. Again, it doesn't sound like a lot, but in the original battery life was listed at around 50 hours, while the new model maxes at 30. Neither of those figures may sound too realistic, but I can definitely say I noticed a difference in battery life between the two generations. The Z2 Play also comes in two different configurations. Buyers can choose between a 3GB RAM and 32GB model, or one that has 4GB RAM and 64GB on board storage. There's also a MicroSD slot capable of supporting up to 2TB cards. The phone runs on a Snapdragon 626 Octa Core processor with an Adreno 506 GPU. It also ships with Android 7.1.1 installed.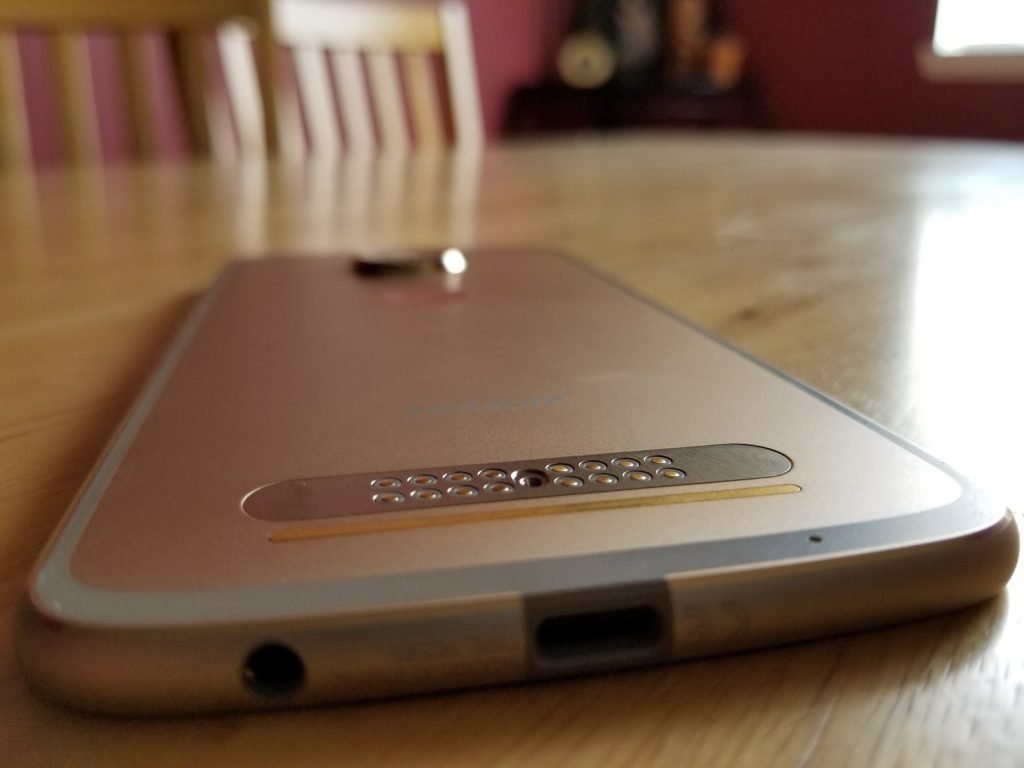 The camera is now a 12MP Dual Autofocus camera with an f/1.7 aperture. Photos turned out decent enough, but were a far cry from other Android cameras. I was able to snag a few really good shots, but it felt light the lighting had to be near perfect to do so. If not, you could expect your photos to be rather noisy and grainy. The front facing camera is also unchanged from the last model, retaining the 5MP f/2.2 aperture configuration. Selfies turned out well enough, but also needed to be taken in really good lighting for the best results. Oddly enough, the Moto Z2 Play features a front facing flash, so it was a lot better for taking selfies in dark areas than most other devices. Video recording worked well, as both 1080P and 4K resolution videos were surprisingly solid. Again, not the best that's available, but still really good.
Overall, my experience with the Moto Z2 Play was a rather good one. I actually wouldn't have minded a slightly thicker phone that still had the battery life that the original had. Perhaps Moto would've been better served to shrink the bezels and enlarge the screen instead of shrinking the battery. I'm a big fan of the design of these phones though, and when combined with the Moto Mods, Motorola has some really unique phones. While modular devices haven't really taken off too far just yet, Moto does stand alone at the top of the pack in that category. If the camera improves, and if they can keep pumping out phones with insane battery life, I'm convinced they'd be in the "best smartphone" conversation.
You can snag the Moto Z2 Play from Verizon Wireless right now for as low as 10.00 a month, or you can buy it unlocked direct from Moto.com.