Mr. Robot was hands down the highlight of my time in San Diego last year. This year did not disappoint, but could have been so much better. Let me explain. The offsite was a small store front window for E-corp bank. This is where you could sign up for an e-coin account. They gave you an e-coin card with 20e, which was a cryptocurrency that could be used at select places around the Gaslamp quarters for free food or a shirt from the Red Wheelbarrow BBQ which was located next door to the bank front. The Red Wheelbarrow BBQ was also a reference from the show and they offered a free pork slider, chips, and shake just for showing your e card.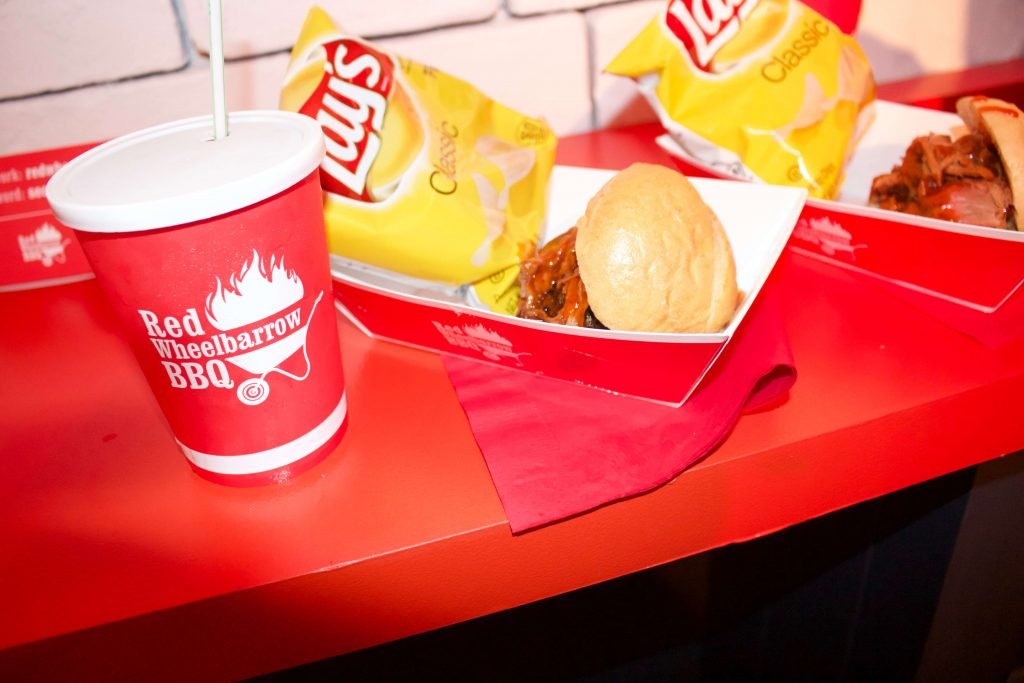 (The pork sliders came from a local chain called Phil's BBQ which were delicious!). Now this is pretty much where our Mr. Robot experience ended, aside from getting a free slice if pizza from Ciro's (which was also tasty). We were on a schedule and we had to wait in line for at least 2 hours just to get the e-card. We knew that there was more to the experience than we did but time was not on our side. Now let me explain all the cool stuff we actually missed. Shout out to britter2 on reddit for the walkthrough.
In the E-corp bank, there was a TV that was displaying advertisements for different types of bank services and every so often the screen would go black and say, "SOMETIMES TO SEE CLEARLY YOU MUST CLOSE YOUR EYES ISE IARI CHI EIVE RIY WIH IERE. There was another clue that was at the bottom of every e coin accepted here sign that looked like this: EUNSLEIPGRNHOTMEONCMOEDNET. Now if you deciphered this, you could go to the e-coin.com website and entered the word ENLIGHTENMENT into the promo code, then this message appeared:
so, you decided to bank with e corp. good. you're on your way. but first… you need a job. ask an employee at red wheelbarrow if they're hiring. hope to hear back from you soon.
While we were eating our pork slider we heard several people ask the servers if they were hiring. We did the same thing and received an application with instructions to pay attention to the application number which was 619. When you looked through the application, there were letters missing throughout the document. When you write the missing letters out it states: FINDANDASSEMBLETHEPIECESENLIGHTENMENTCALLS.
On the closed Mr. Robot storefront was an advertisement for E Corp Online or EOL. The Advertisement stated:
The World Wide Web is what's happening now, and EOL brings it right to your computer. Sports, Shopping, Travel and more… over FOUR categories of content, all at your fingertips…Our new high connection speeds will have you online in less than THREE minutes!…Order now and receive ONE free hour to check out E corp Online.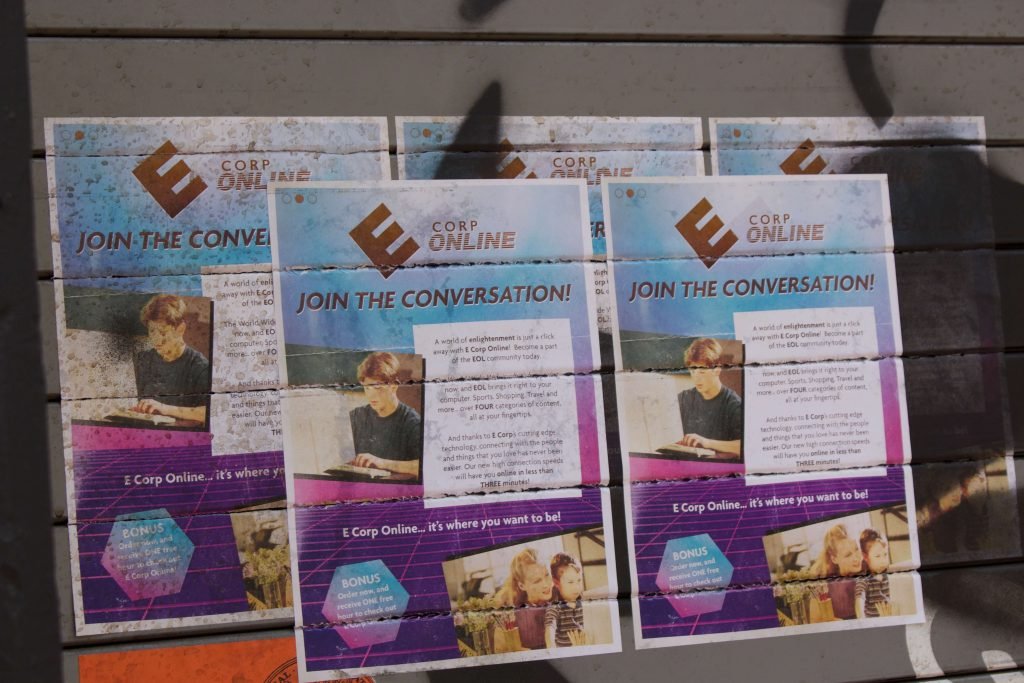 In the Red Wheelbarrow there was a chalkboard with words from the poem The Red Wheelbarrow by William Carlos Williams. I did notice that there were chicken stickers on the bottom that were familiar to me because I had noticed a couple while I was in line waiting to get my e-card. These chicken stickers also had a speech bubble that said "Follow us". The chicken stickers lead you to another poster which had more numbers. There were marionettes on the poster that held a noose, a white rose, a cell phone, and a knife. The marionettes were holding up fingers in the numbers of two, three, and four. At the bottom of the poster it said, "If you pull the right strings, a puppet will dance any way you desire."
When you put all the clues together you get a phone number, when you call at the right time a woman answers and says, "If you pull the right strings…" If you answers exactly as stated on the poster, she would ask for your name and told you to be in front of Urban Lighting store at 4th and K at a designated time. When you show up a man in black stated your name and asked for your application then you were told to follow him. He led you through a newspaper covered door next to the Red Wheelbarrow and asked for your phone. Then he led you to a dark room with a desk where a man with a Dark Army mask sat and offered you a seat. There were floppy disks and a red rotary phone on the desk. The Dark Army man asked a few questions that he typed into a computer. One of the questions was, "Are you afraid of the dark?" When you say no, he stops typing and looks at you and says, "Prove it". The lights go out and you are left to look at many phrases on the wall, then the Dark Army man brings your attention to this question, "What do people in darkness seek?" Your answer should be "Enlightenment". The lighting changed and the red rotary phone began to ring. It was Whiterose. It was a recorded message with lots of information. She said she would give you 60 seconds of her time. She said not all players know their part in the game and that some would be taken off the board. When her watch beeped she said she would never speak to you again, but she would give you a glimpse of what was to come. Then the Dark Army guy passes you a manila envelope. He stresses only 30 seconds. When you open the envelope you get 6 photo clues of what's to come. Many say the photos changed depending on what day you got to go. When you return the envelope, they return your phone and you leave.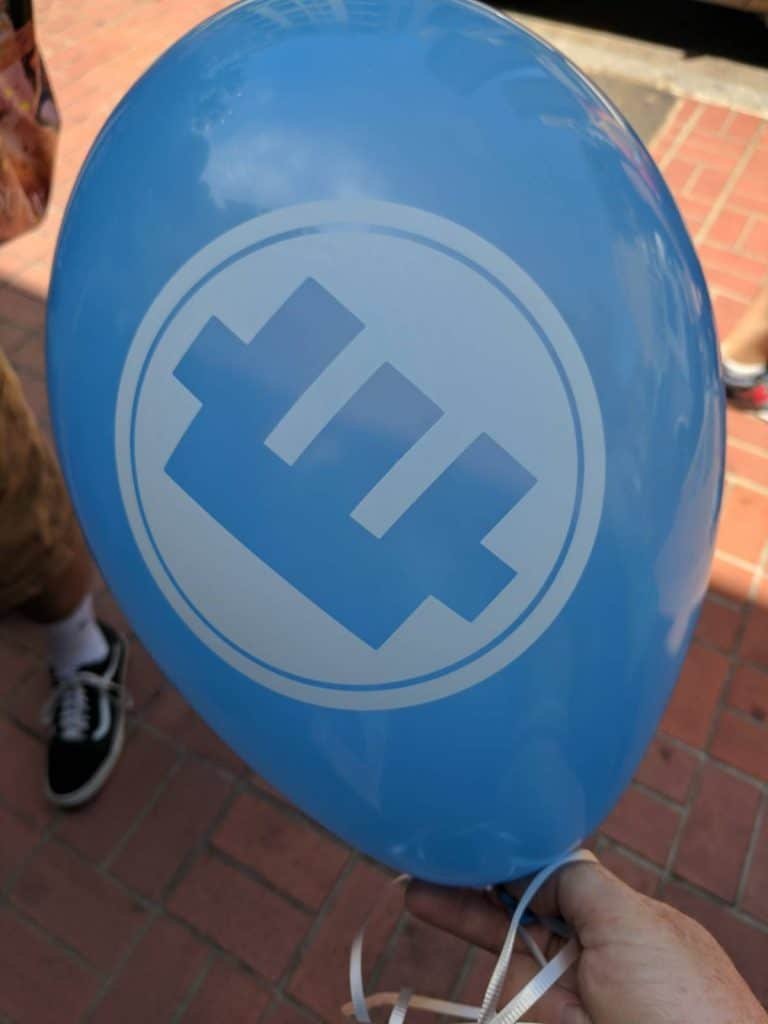 Holy Moly. My mind is blown!
Did you get this far? What was your experience? Let us know!