One week ago, I stepped off an airplane and walked into Laguardia Airport in New York for the first time. I was there to attend New York Comic Con, and unlike other Comic Cons, I went into this one with insanely high expectations. It has been heralded as the Sand Diego Comic Con of the east coast. It packs in just as many exclusives, celebrities, and one of a kind experiences, all wrapped in an entirely different shell. Maria and I hopped in the back of a Lyft, and drove towards our hotel, anxious to see what awaited us at the Javits Center.
We arrived at our hotel super early and couldn't check in, so we decided to hit the comic con sooner than anticipated. We walked a few blocks to the convention center, and once there we went through security check points to gain access to the main entrance of the con. There was a buzz of excitement in the air, as tons of people were already at the con. As we made our way into the convention center itself, we were almost immediately overwhelmed by how large and sprawling the Javits Center was. It was insanely huge. from one end to the other, it felt like we had walked several miles, and that's not including either of the two upper areas.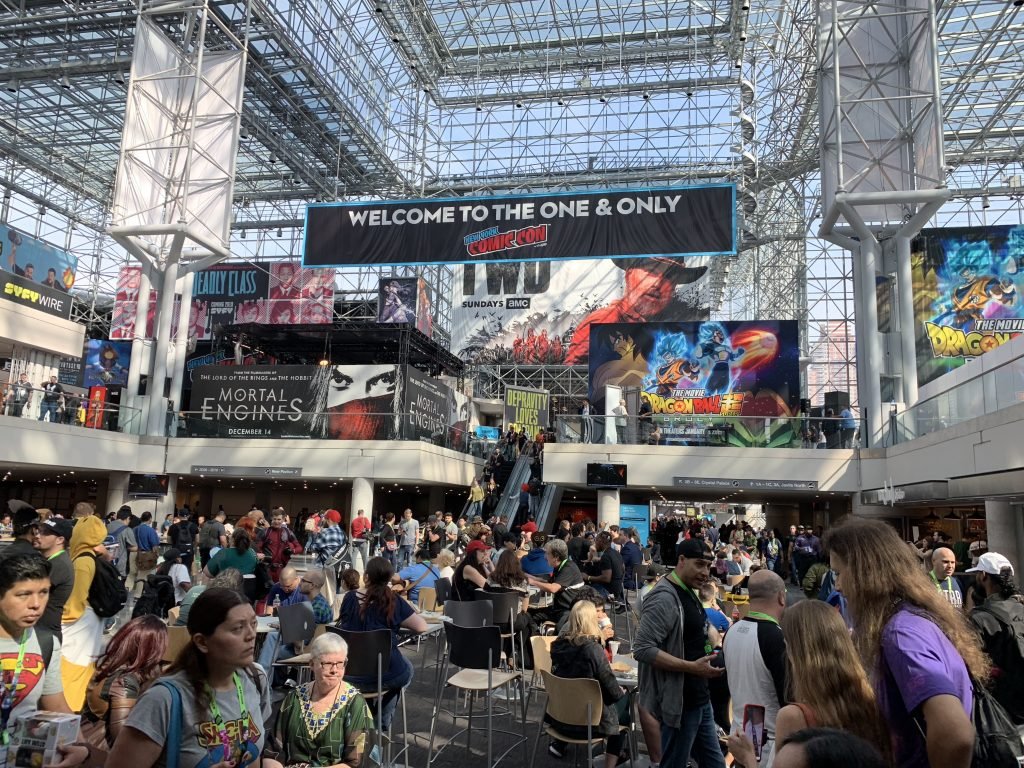 In terms of layout, I'd have to say that NYCC was easily the most access friendly con that I've ever been to. What I mean by that is there were several different ways to enter and exit the main show floor, and they all seemed to get you exactly where you wanted to be. We tended to hang in the western corner of the building as it hosted a secondary access point from outside. This was the main place we were able to capture cosplay photos, and also where the press room was most easily accessible. Once we did our customary survey of the building, we sat out to find the location of bigger vendors such as Skybound, DC, Marvel, and of course Funko. Marvel had a lovely stage set up, where they hosted several interactive panels, and showcased the latest projects they'd been working on. There was a Captain Marvel trailer almost infinitely on repeat, unless they were talking about a specific franchise. After venturing around the main floor for a while, we came to the realization that NYCC was arranged similarly to C2E2. This made perfect sense as they're both hosted by the same parent company, ReedPop. Once we made this connection, maneuvering around the floor became that much easier in theory, but the sheer amount of people in attendance still made it tough to traverse from one side to the other.
There was an amazing amount of show exclusives available from select vendors, and they featured several big franchises. There were collectibles from Game Of Thrones, The Walking Dead, even Coming To America had exclusive Pop! figures available at the Funko stand. I kept feeling myself drawn to the Funko line, but each time I was warded off by the massive line in place. We decided to wander around the main lobby for a little while longer, and try to capture one of the cooler aspects of any comic con: the Cosplay.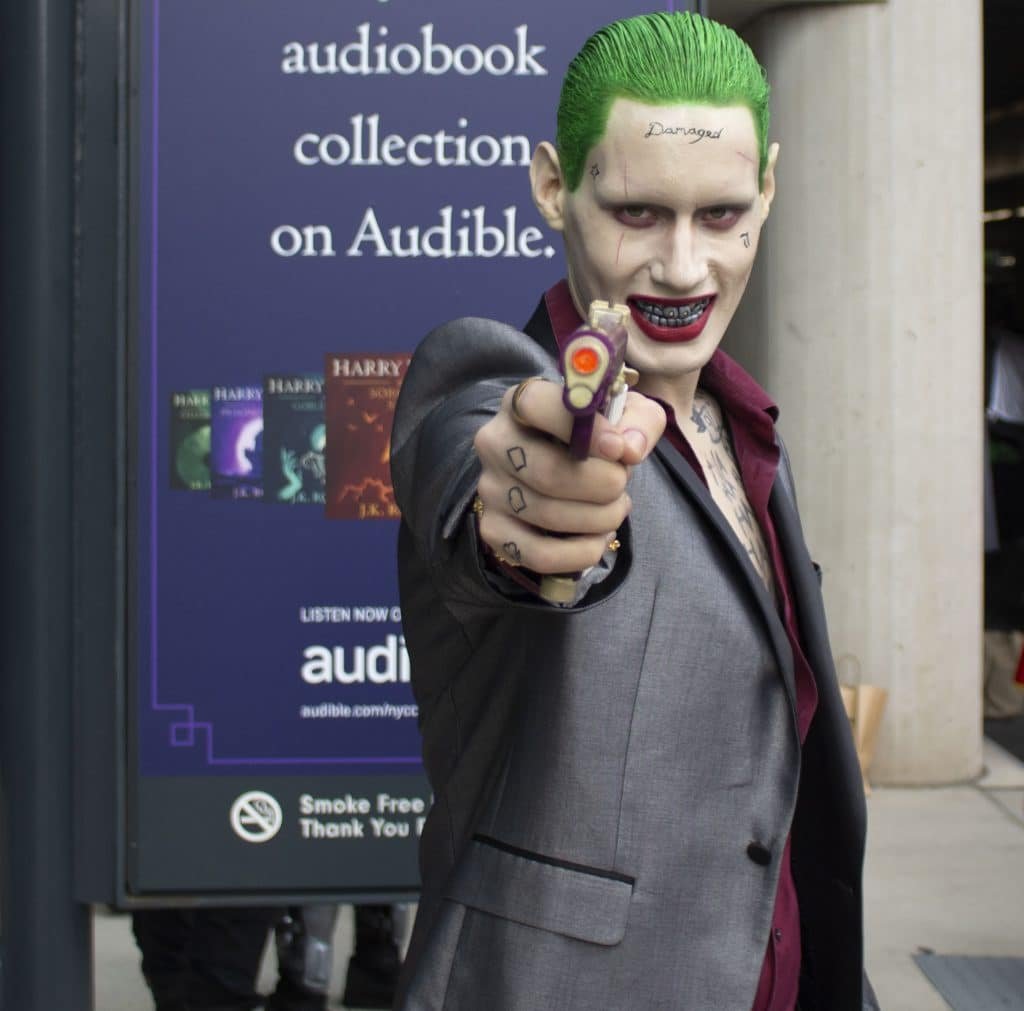 The true sign of engagement at a comic con is the cosplay. Cosplay is the ultimate sign of fandom. Being so wrapped up or enthralled with a franchise, that you decide to dress as a character from said franchise is a glowing beacon of fandom. While I didn't see a ton of highly elaborate costumes, there was an insane amount of variety amongst them. If you could think of a franchise, someone was there dressed as the characters from it. There were classic horror icons, anime heroes and villains, Marvel, DC, Doctor Who, Harry Potter, all on display. We tried to keep up as much as we could, but in the end, there was just far too much going on for a two person team to handle. We still snapped a ton of pics though, and managing to pull that off was nothing short of a miracle.
Another impressive aspect of New York Comic Con, was the fact that it was easily the most press friendly show that I've ever been to. The opportunities available were stellar, and I was able to snag two really cool experiences along the way. The first was a special media presentation of 'Alita: Battle Angel." Alita is shaping up to be the next big hit franchise from James Cameron, and it features an all-star cast, including Christoph Waltz and Marhershala Ali. The film is directed by Robert Rodriguez, and tells the story of Alita, a humanoid cyborg who awakens in a post war world with no memory of who she is. Christoph Waltz plays Ido, a doctor who helps her along the way, as they both discover who she truly is, and her importance to the future. The screening did exactly what it was supposed to do, and perfectly built hype around its release in February 2019. I was also granted the ability to attend a quick presser with the cast and crew of COSMOS, including Ann Druyan (famed writer and former spouse of Carl Sagan) and Neil Degrasse Tyson. They were both brilliant in conversation and meeting Neil was amazing, but the short conversation I got to have with Ann was mind-blowing. It was the perfect end to my time spent in New York.
My first New York Comic Con is now in the books and I was thoroughly impressed with the show from start to finish. The people, the food, the experiences were all top-notch and I really enjoyed my time spent in New York. If given the opportunity I'd attend New York Comic Con next year in a heartbeat. It's a big show and can feel a little overwhelming at times, but it is definitely one of the best cons I've ever been to. If you ever get the chance, you should check it out too.