The Samsung Galaxy Note is easily one of my favorite devices that exists. They've become highly important in the smartphone ecosystem and arguably are Samsung's most important release of the year. The Note series represent Samsung's take on a true flagship device, and as such it always has the biggest and best components that they have to offer. Verizon wireless hooked us up with a review unit connected to their network, so of course we're going to put it through the ringer. Check out our thoughts on the newly released Samsung Galaxy Note 9
Let's start with the biggest part of the device, which is the screen. The screen on the Note 9 may very well be one of the most gorgeous displays I've ever used. It's bright, the colors are crisp and vivid, and the thing just looks great. It's the biggest display that Samsung has ever produced. A 6.4 inch Quad HD+ Super AMOLED panel that has a 2960×1440 display resolution, and an insane 516 PPI (pixels per inch). The Note 9 has Samsung's Infinity Display, which presents a nearly bezel-less experience, and those super sleek curved edges. It's also IP68 certified which means it is not only water resistant, but could also be submerged down to 3 feet, for up to 30 minutes.
One of the biggest leaps forward with this year's Note, is the focus on performance and battery life. There's a new stereo speaker system that increases the sound quality on all fronts, but especially while watching videos. Samsung dropped a massive 4,000 mAh battery inside, and they advertise an all day experience on a single charge. For me, this wasn't the case, but the battery life was still insanely impressive. Most of that is accomplished thanks to the new processor inside. It's a 10nm 64-bit Octa-Core powerhouse. Backed by an insane 6 or 8GB of RAM, the Note 9 just flat out flies. In terms of capable phones, this one pretty much hits ALL the high marks.
Samsung also focused in on the emerging mobile gaming market, and included a few surprises within the phone to accommodate gamers as well. For starters, there's two new configurations for the Note 9. There's a 128GB model, and a 512GB model, and the one you choose determines the amount of RAM you get (6GB of RAM for the 128GB Note, 8GB of RAM for the 512GB). The true hero though is the cooling system present in the device. Samsung opted to include a water-carbon cooling system which diffuses heat more efficiently, allowing the phone to sustain high performance under the most strenuous of conditions.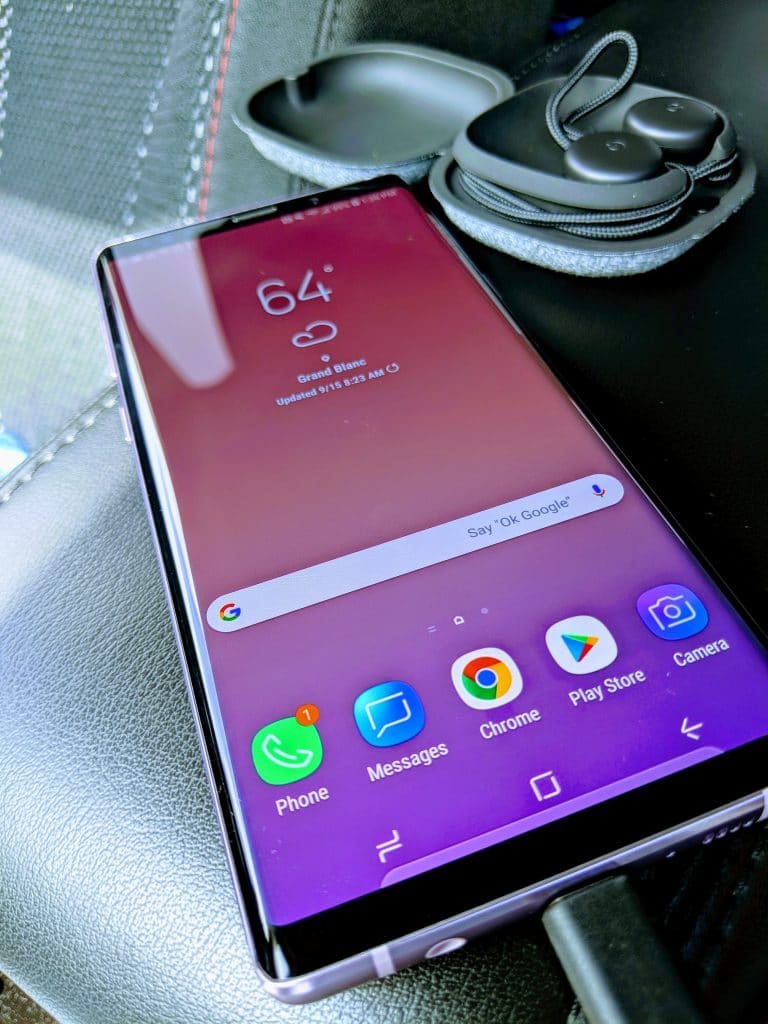 Pretty much every new smartphone released in 2018 will have some sort of AI included in the camera to bolster photo quality. The Samsung Galaxy Note 9 is no different. Samsung has included software assistants to insure you take consistently good pictures, and I was surprisingly impressed with the results. I actually went to an WWE event while I had the Note 9 and shot the whole thing with it. Photos were clear and crisp, and both of the lenses came in handy for a more dynamic experience. Video was also quite stellar, and didn't suffer under less than ideal lighting conditions. Going back to my WWE event, I was actually able to capture two really good videos utilizing Samsung's Super Slow Mo mode on the Note. The only frustrating point behind using Super Slow Mo, was the fact that you have to wait for motion inside a resizable square on screen, before you can start recording. That takes some really special timing, especially if you're trying to capture a particular moment.
The S Pen is also "new and improved" and has more functionality with the year's model. For starters, the S Pen is now a low power bluetooth device, which means it'll charge while docked inside your Note. Samsung also made it IP68 certified for water resistance for those who may like to test their phones in the elements. The S Pen now has the ability to function as a remote of sorts, giving you controls in certain apps without having to interface with your phone. You can use it to control music, for remote shutter controls in the camera app and more. I honestly didn't use the S Pen a whole lot outside of showing people how cool it was to switch between cameras and take photos.
All in all, Samsung managed to take a good phone, in last year's Note 8 and make it even better with the Note 9. This phone pretty much crosses off all the important items in regards to what makes a phone great, and is up there as one of the top releases of the year.