The 50th annual edition of the San Diego Comic-Con is officially in the books. From start to finish the show was packed to the gills with excellent panels, awesome exclusive collectibles, and memorable moments. Several franchises discussed the end of a journey, while others shared excitement over the start of theirs. We spent 5 days inside the San Diego Convention center trying to take it all in and still didn't see and experience everything. Here's our San Diego Comic-Con 2019 wrap up.
This year was our third year attending and it was unlike anything we'd ever experienced over the previous two times we went. Staying at a hotel like the Mission Bay San Diego Resort certainly helped us to enjoy the occasion! There was a certain buzz, an almost indescribable electricity in the air. There were fans of literally everything there, and they were intent on indulging in their favorite fandoms at any cost. Some people were nice, some not so much, but everyone was excited. That type of energy is always contagious and it rubbed off instantaneously.
We started our trip off with a bang, being ushered into an exclusive media preview day for Amazon's on-site activations. There were three in total, highlighting three big shows on the Amazon Prime Video streaming service. Those three, in particular, were The Boys, The Expanse, and Carnival Row. While we didn't get to check out the Carnival Row activation, the two we did see were both excellent. We started at The Boys, where we were tasked with helping members of "The Boys" clean up a crime scene before the police arrive. The acting was amazing, and the activation ended with a bang, or should I say a stab.
Thursday was amazingly fun as we got to attend a WWE and Mattel panel, and the chance to sit and have a chat with three stars of TruTV's Impractical Jokers. Joe, Murr, and Q held an intimate session with members of the media to discuss all things Jokers. The most apparent thing throughout the entire session was the fact that these guys were truly, and genuinely friends above anything else. They have a chemistry together that is not only present on-screen but off it as well. Each person played perfectly off the other and it never felt like they were being "on." I learned that there's an Impractical Jokers movie that is just sitting and waiting to get released. The guys seemed really excited about it as well, and when pressed about what the holdup was, the answer was one that's been a bit of a constant nowadays: The AT&T takeover of Warner Media assets. The WWE Panel was highlighted by a showcase of new WWE action figures from Mattel and featured guest WWE Superstars Curt Hawkins, Zack Ryder, Kofi Kingston, Becky Lynch, and Rey Mysterio.
Friday was a day of service for me, as I spent the majority of the day walking the convention floor, snapping photos while Maria met her personal hero, Greg Nicotero. She got the chance to sit in on a press roundtable featuring Nicotero and some of the stars of the Creepshow reboot airing on Shudder this Fall. Nicotero dished on what it's like working with such an iconic franchise and casting some of the biggest names in horror to help him tell his stories. While Maria attended roundtables, I was busy learning the hardest lessons ever while at Comic-Con. Lesson number one, buy what you want early if you're given the chance because things will sell out, and they'll sell out fast. Lesson number two, if you want exclusives either a three to four-hour wait in line has to happen, or you'll need to win a lottery. There is no in-between.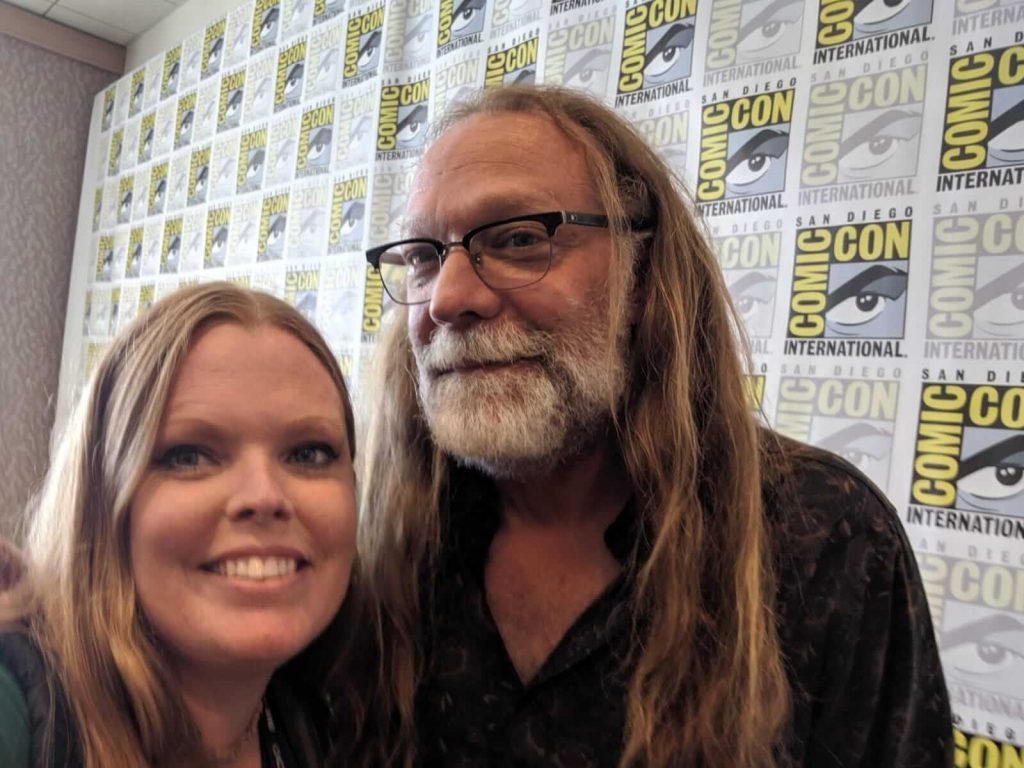 Saturday will go down in Comic-Con infamy for two reasons. One: After taking a year off from SDCC, Marvel made a gloriously triumphant return with an excellent Hall H panel. Two: They set the internet on fire with what they announced. Very few people knew specifically what Marvel had planned, but nobody expected them to announce everything they did during their packed Hall H showcase. In addition to confirming the existence of Black Widow, Shang-Chi, Doctor Strange, Thor, and Eternals films, Marvel also unveiled Loki, Hawkeye, Falcon and The Winter Soldier, and WandVision shows for Disney +. Then, in the most Apple move ever, Marvel head Kevin Feige added: "There's one more thing." That's when I knew, something big was about to happen. And big is a bit of an understatement, as Oscar-winning Actor Mahershala Ali strutted out in front of the crowd. The one more thing happened to be the announcement that Marvel would also be rebooting the Blade franchise, with Ali as its star. The crowd, the internet, and all of San Diego collectively lost their minds.
Sunday was the fifth and final day we spent at Comic-Con, and at this point, we were completely washed. At this point, we were running off about 4 hours of sleep and were wondering around the San Diego Convention Center aimlessly. Today was also the day Supernatural would hold their very last Hall H panel as the show prepares to head towards their 15th and final season. Misha Collins, Jensen Ackles, and Jared Padelecki bid their fans a tearful farewell while discussing the upcoming season. They also shared favorite fan moments and favorite memories from past seasons. It was a solid panel and a great sendoff for a show that has managed to reinvent itself over and over again across 15 years.
Attending Comic-Con is always a great time, and every single year is different than the last. Fifty years is an amazing achievement, and we're looking forward to the next 50 at San Diego Comic-Con!