The Motor City Comic Con made its triumphant return to the Suburban Collection Showplace in Novi, MI for the first time since the onset of COVID. After months of speculation, organizers of the popular comic con had to cancel last year's event amid rising COVID cases in Michigan.
This year's installment faced a few unique challenges, but none bigger than making sure the show could be both entertaining and safe. As most other comic cons announced plans to return with stringent vaccination and/or mask mandates, the showrunners for MCCC instead focused primarily on masking and distancing. Both are crucial, but there were tremendous lapses in both over the course of the weekend. With that being said, the weekend was still fun-filled and a fantastic return to form from one of my favorite conventions to attend.
What Motor City Comic Con has been able to do really well in recent years, is diversify the celebrity guests across several genres. This year was no different, as there was representation from anime, movies, tv, and pro wrestling in attendance.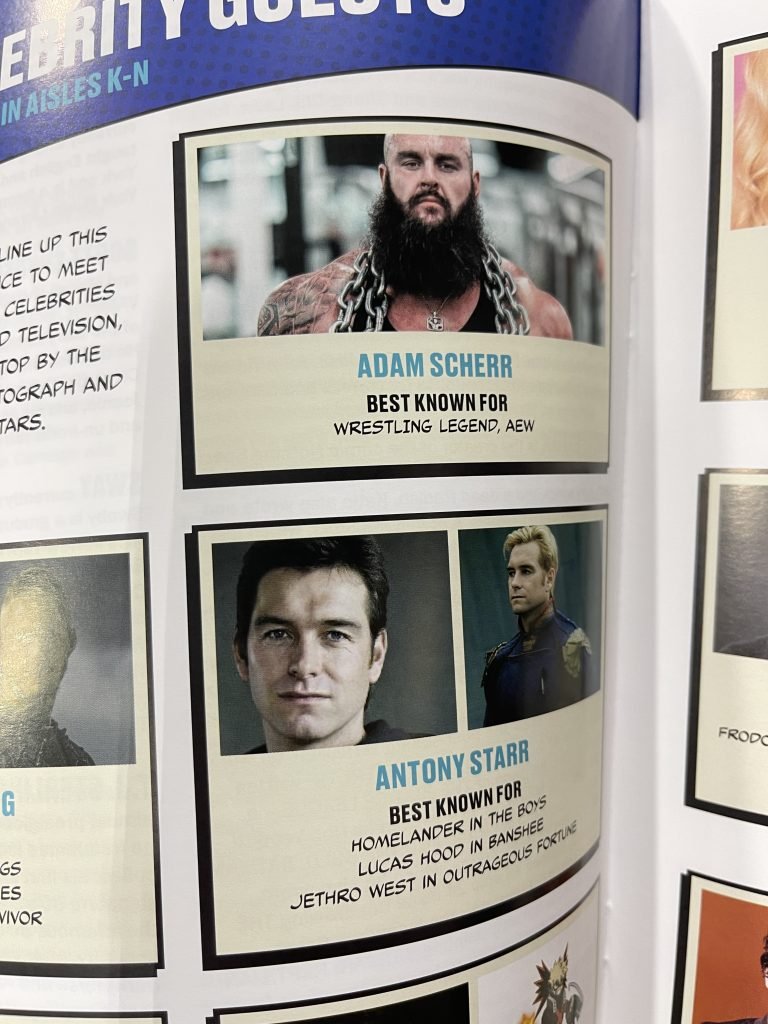 Cosplay is typically one of the most diverse things at a comic con, as fans chose to put their own unique spin on their favorite characters from different franchises. This year was a little different, as much of the cosplay was centrally focused on anime characters. Typically you'd see a mixed bag of new and old characters, but this year anime was far and large the most represented genre in terms of cosplay. I'd suspect the reason for this is the presence of the main voice cast from the wildly popular My Hero Academia.
One of the single coolest things about attending a comic con is being able to sit in on a panel. Panels allow you to get more time with your favorite celebrities, in a more intimate setting. Motor City usually knocks it out of the park in this arena, but this year, there was a little left to be desired. I can't really decipher if it was due to the willingness of the media guests, or a decision that was made in light of COVID regulations, but there wasn't really a bunch of panels at this year's con.
An area of frustration and disappointment for me happened while waiting to attend the cosplay contest. This is usually one of the things I look forward to most during the weekend, but I decided to pass on this year. I had missed out on a Mandalorian panel earlier in the day because I didn't get in line early enough. I made it a point to arrive early for the cosplay contest and the line was already starting to back up.
After about 45 minutes in line, I started to worry a bit as by now there were probably 100 or so people in line. Crammed together in a tight space. Indoors. As a policy, Motor City Comic Con chose to not require proof of vaccination or a recently negative COVID test for attendees. After being in line for almost an hour people began getting restless, masks weren't being worn, and there was nobody interested in ensuring that they were. Not willing to risk it, I decided to forgo the contest and ended my Saturday night early.
Overall, the 2021 edition of Motor City Comic Con was super fun and exhibited a lot of the things that made me fall in love with it after attending several years in a row. Obviously, COVID presents some really unique hurdles for any showrunner to have to negotiate, and for the most part, MCCC did a good job with what they had. With next year's show already planned for May 13th – 15th, I'm looking forward to seeing how things change between now and then.