Cody Rhodes has seen just about everything there is to see in the world of pro wrestling. Born into a wrestling family, the business is quite literally in his blood. Despite being the youngest son of one of the biggest acts in the history of the industry, he has yet to visit the highest peak in the sport. The son of the son of a plumber has ironically befallen the same fate as his notoriously famous father. But after leaving the same company that seemingly shunned his father's fame and making a name for himself elsewhere, Cody has returned to the WWE. The third act in his wrestling career could finally land him in the position he's rightfully deserved for so long.
In an impassioned promo during his return to Monday Night Raw, Cody recalled the story of a photo of his father, Dusty Rhodes holding up the WWWF Championship. He was proud of his dad, as he never knew he was the champion "like Hulk Hogan was." It was then that Cody was treated to the story of the champion's advantage. It's a rule in wrestling that allows someone to win a match by count-out or disqualification while allowing the champion to retain their title. This was the last time that Dusty would ever get close to the biggest prize in the industry as he was saddled with the "common man" gimmick until he finally hung up his wrestling boots.
A few decades later, Cody would find himself signed to the roster of the WWE. Wrestling for the same company that failed to capitalize on the star of Dusty Rhodes, and who'd kept his older brother Dustin out of the title picture, Cody could finally be the Rhodes to break what felt like a curse on the family. Cody started off as a member of "Legacy" a talented group of second-generation stars, led by the red-hot Randy Orton. Even though Cody and his fellow stablemates were prominently featured, it wasn't until Cody struck out on his own that we got to see the potential future star he could be.
It was during his solo runs that we really got to see Cody truly shine, both between the ropes and creatively. His work as "Dashing" Cody Rhodes was pretty good, but after legitimately suffering a broken nose, his transformation into "Grotesque" Cody Rhodes may have been some of his best work. As Grotesque Cody, he would often use major heel tactics to win his matches, but the character itself got over so big because he would often hand out paper bags and tell members of the audience to wear them. He would also bring back the retro Intercontinental Championship design during this run, which went over crazy well with fans.
Cody would enjoy a spot in the middle of the card, but never truly progressed into the main event scene. His best chance at finally "grabbing the brass ring" came during the 2013 Money In The Bank match. After failing to capture the MITB briefcase Cody would flounder in the single space for a while before debuting perhaps the WORST thing to happen to his career in Stardust. Stardust was an offshoot of the Goldust character his brother created but amplified by 1,000. Cody went all-in on the gimmick initially, never breaking character and doing his absolute best to get it over. Despite his best efforts, and a pretty decent match with Stephen Amell at SummerSlam the Stardust character floundered and would spell the end of Cody's time in WWE as he would request his release from the company in May 2016.
Cody would take his time away from WWE and reinvent himself in one of the most important ways possible. The first step he took was in creating "the list" – a shortlist of accomplishments he wanted to achieve within the world of pro wrestling. There was a who's who of indie talent on Cody's list, and to cross names off the list, he'd have to traverse between several promotions. The challenge of moving through the indies and "earning his stripes" so to speak would require Cody to raise the bar several times over, and led to him creating the most important gimmick of his career. A character that would highlight Cody himself as he worked to cleanse himself of the sports entertainer he was, blossoming into the pro wrestler he always wanted to be. In the process, he would shed his connection to the "Dream" moniker and would instead begin referring to himself as The American Nightmare.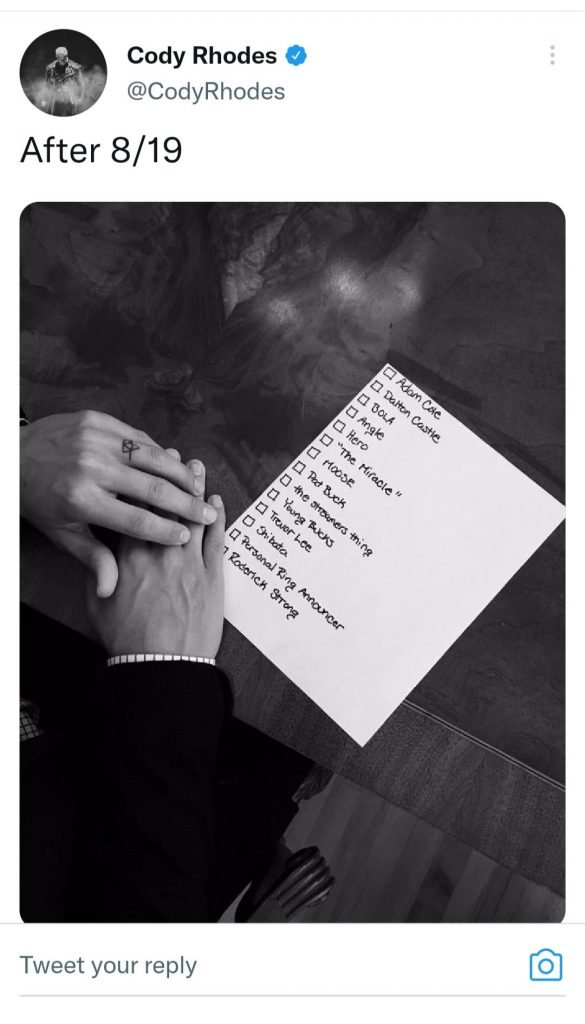 The American NIghtmare ran through dream matches at a breakneck speed, building his star even further in the process. He cranked out classics against Kenny Omega, Dalton Castle, Kazuchika Okada, Juice Robinson, and Christopher Daniels. He'd become a member of the Bullet Club, and it was through this alliance that Cody Rhodes would make a decision that would change the trajectory of his career and the world of pro wrestling in a major way.
In January 2019, Cody would join former Bullet Club stablemates The Young Bucks, Kenny Omega, and another former WWE talent, Chris Jericho in launching a new company, All Elite Wrestling. During his stint in AEW, Cody could flex his muscles as a wrestler, and as an Executive Vice President, he could also have a direct hand in booking and branding decisions. One of the first big decisions Cody made was essentially booking himself out of the AEW World Title picture by way of a wacky stipulation in a match with Chris Jericho. As a result of losing his bout with Jericho, Cody could never challenge for the AEW title again, and although this was a noble move by Cody (not appearing to be using his EVP privilege to book himself into title opportunities) it would also indirectly give him a chance to pursue another championship opportunity that's escaped his family for decades.
In early February, reports began to surface that contract negotiations between AEW and Cody Rhodes had stalled, and there was a very real possibility that he could walk. Shortly after, rumors also began to surface that a return to WWE was in the works and that he could make an imminent return. Many wrestling fans (myself included) were torn at the possibility of a Cody Rhodes return to WWE. After all, over the last few years, we've seen WWE consistently squander the careers of some of their most talented wrestlers. Hell, Cody himself was once one of those talents that seemed destined to toil in mediocrity as long as he was on Vince's payroll. WWE is a machine, and if their business model hadn't particularly changed what would possibly be different for Cody this time around?
The short answer? Everything. Cody is a completely different talent than he was when he originally left WWE 6 years ago. He has grown as a man, as a performer, and as a businessman. In 6 years Cody Rhodes has built his reputation as a genuine star within the business and shown that when given the chance, he could step in and be the face of a company. Even more so than that, he's also stopped running from the legacy of his father, and started to embrace it. Cody is in a prime position to finally step up and accomplish the one thing that's eluded his family for so many years. Not particularly to be A champion, but to be THE champion in the WWE.
Cody started his career in WWE and learned the ins and outs of the business before ultimately leaving to improve at the craft and build his star. On the indies and in AEW, he once again reinvented himself into a championship-caliber wrestler, an executive, and a bonafide star. All the chips are on the table, and Cody In his return to WWE is about to embark on a career-defining journey. His third act in the world of professional wrestling could be his biggest one yet, and it could also be his most lucrative. The American Nightmare is finally living out his dream.