One of my favorite PPV events is happening this Sunday. WWE Money In The Bank will be live and emanating from the Allstate Arena in Chicago, IL. The card itself is super stacked, and with this being only the second co-branded PPV since WWE moved to that format, it promises to be a must-see event. There's two big Money In The Bank ladder matches, both Women's titles are on the line, an IC Title match that could steal the show, and a 'Last Man Standing' match for the WWE Title. Altogether, there's ten matches on the card, and here's my predictions for each one.
Kickoff Show: Smackdown Tag Team Title Match
Gallows And Anderson V The Bludgeon Brothers (c): With the proper build, this match could've actually been excellent. But with the Bludgeon Brothers being largely absent on WWE programming lately it feels a little flat. I'd honestly love to see the Good Brothers take this and get an actual proper Tag Team Title run. My gut tells me that The Bludgeon Brothers will retain in relatively convincing fashion, and continue to anchor a Smackdown Tag Team division searching for an identity post Usos.
Winner: The Bludgeon Brothers
Intercontinental Title Match
Elias V Seth Rollins(c): The Intercontinental Title has a long history of being the show opener to help get the crowd going. I don't expect that to change at all, and I think Seth and Elias will get the opportunity to go on first. Ironically enough, this match has the potential to be the match of the night, as both men have shown chemistry in the ring already. The WWE Universe is firmly behind Elias, and even more so behind Rollins, so no matter who comes out on top, fans will be pleased with the outcome. I do expect Rollins to continue to roll as Intercontinental Champ, and although Elias is a formidable opponent, in the end Rollins will retain.
Winner: Seth Rollins
Men's Money In The Bank Ladder Match:
The Miz V Braun Strowman V Samoa Joe V Kevin Owens V Bobby Roode V Rusev V Finn Balor V A Member Of The New Day: The Men's MITB Ladder Match and it's competitors are all in a precarious position. This match has, over years, made several careers. The winner usually goes on to Championship glory (unless you're Damien Sandow or Baron Corbin), and there's typically always a breakout star made in the process. The biggest mystery surrounding this match, is of course, which member of The New Day will participate. Matches like this are custom catered for Kofi and his aerial artistry, but I think we're all in line for a big swerve here. I think the New Day may opt to send in Xavier Woods this time around. Woods is having a hell of a year, and he could be the breakout star I previously mentioned. Everyone else here will be role players, and I expect to see some sort of multi-man high spot aimed at taking Braun Strowman out of the match. Rusev will have a great showing, but WWE will continue to keep him out of the main event scene for the foreseeable future. My dark horse choice for winner is Samoa Joe, but all signs are pointing towards the Miz walking out with the briefcase. He too, is having a hell of a year, and with him possessing the MITB contract, he could be set up for an even bigger win against one of his biggest rivals….Daniel Bryan.
Winner: The Miz
Smackdown Women's Title Match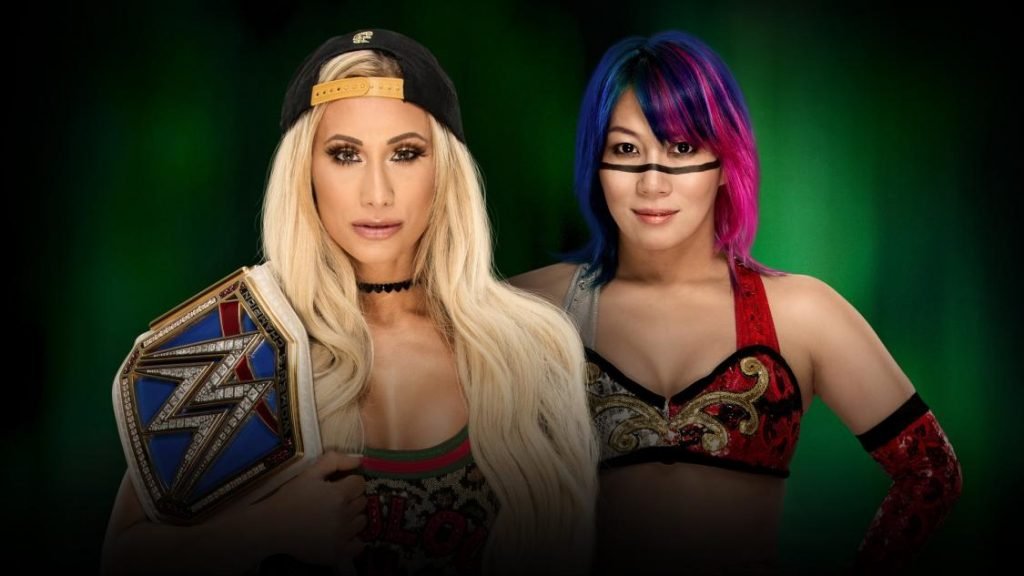 Asuka V Carmella(c): This is a very intriguing match, and is really the only match on the card that I don't have a clear cut winner for. Carmella has actually been surprisingly great as the slimy heel champ. She's been trash talking and short cutting her way through this initial program with Asuka, and she owns a clean victory over Charlotte. Those two things alone speak volumes for WWE management's confidence in Carmella, although the believability (yeah I know, I know) of her actually beating Asuka is very low, it's not totally out of the realm of possibility. On the other hand, Asuka has largely been a wrecking ball in the WWE ever since she stepped foot in the locker room and so far, has only suffered one major loss. I can't fathom WWE pulling the trigger on another Asuka loss, at least not without some sort of zonky finish (cough cough James Ellsworth).
Winner: Carmella
Grudge Match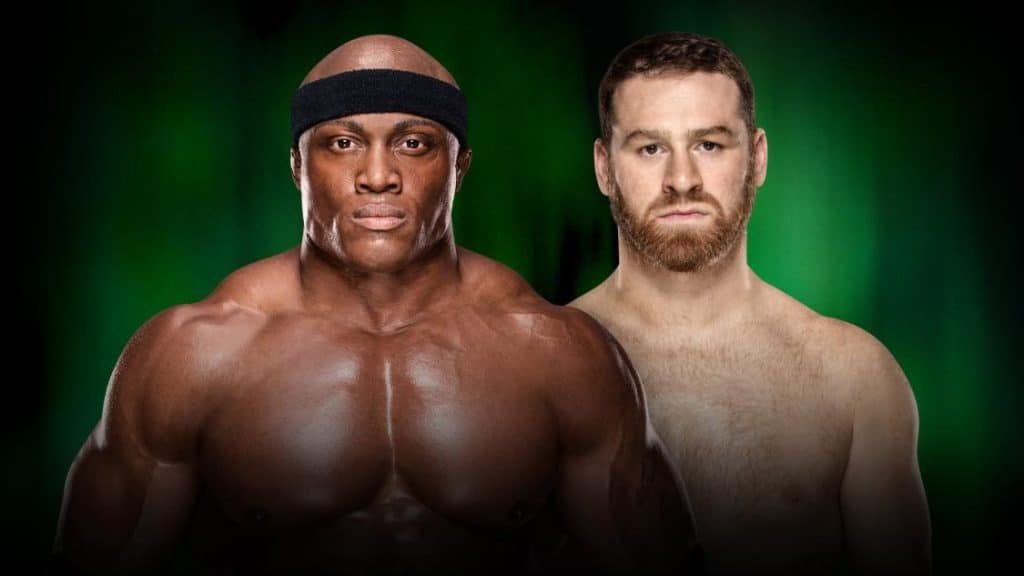 Bobby Lashley V Sami Zayn: This feud needs to die. Now. After clogging up several minutes of Monday Night RAW with absolutely abysmal segments, Lashley and Sami Zayn will finally meet in the ring. Sami has been doing a decent job with the material he's been given, but this feud just has no legs. For that reason, I'm calling this a quick squash that will see Lashley going over in convincing fashion.
Winner: Bobby Lashley
Grudge Match
Daniel Bryan V Big Cass: This match is your typical David versus Goliath story, with the underdog poised to once again overcome the looming threat of a giant. Daniel Bryan has gotten the better of Big Cass in almost all of their previous meetings, and I don't think that'll change here tonight. Big Cass will have an impressive showing, but in the end, Daniel Bryan will once again make Cass tap, and begin his inevitable ascent into the increasingly crowded main event scene on Smackdown.
Winner: Daniel Bryan
Women's Money In The Bank Ladder Match
Becky Lynch V Natalya V Lana V Sasha Banks V Charlotte V Ember Moon V Naomi V Alexa Bliss: The Women's MITB match has a really interesting dynamic to it, in which we're going to get a major swerve, or it'll end up being ridiculously predictable. No in-between. All the women in this match are stellar athletes (maybe excluding Lana), and I'm looking forward to seeing some gnarly crash and burns. I expect to see up an coming superstar Ember Moon work as the show stealer here, while Sasha and Charlotte rekindle an old rivalry. In the end, I think the swerve will prevail, and the woman people least expect to win, will be the one holding the briefcase at the end of the match.
Winner: Natalya
Grudge Match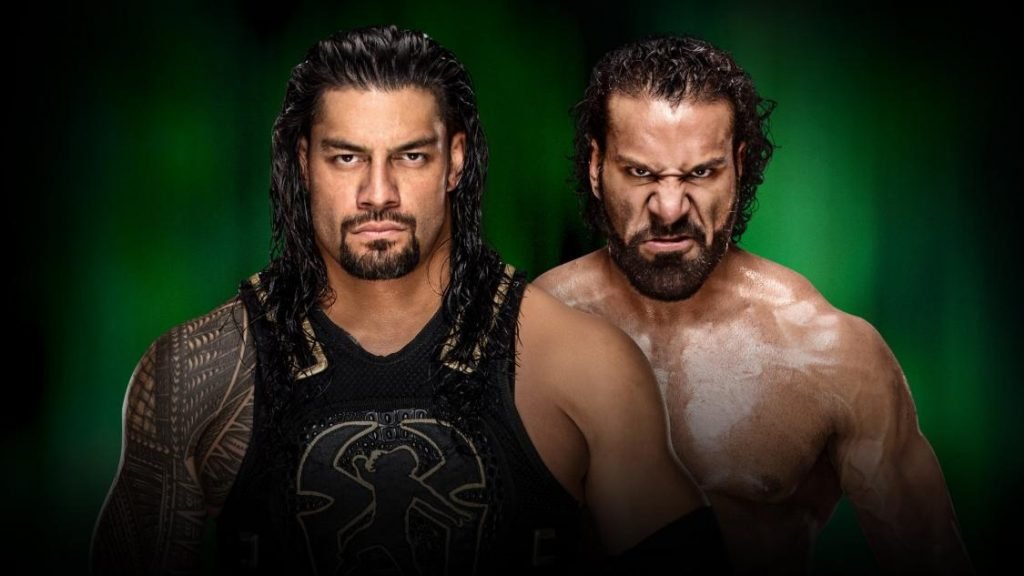 Roman Reigns V Jinder Mahal: If you had told me these two would be engrossed in a feud in 2018, I'd of laughed in your face. Somehow though, it's actually happening. WWE must be getting desperate for Roman to not get booed, but this is the worst possible way to accomplish that. Chicago is a really smart wrestling crowd, and if this is indeed an experiment to try to get Roman over as a face, it could end up going horribly wrong. Be that as it may, this feud has been mildly entertaining as its been featured on RAW almost every week. Jinder is doing a solid job as heel, and Roman is….well…. Roman's being Roman. I honestly don't think Jinder has a snowballs chance in hell in walking away the the victory so…
Winner: Roman Reigns
RAW Women's Title Match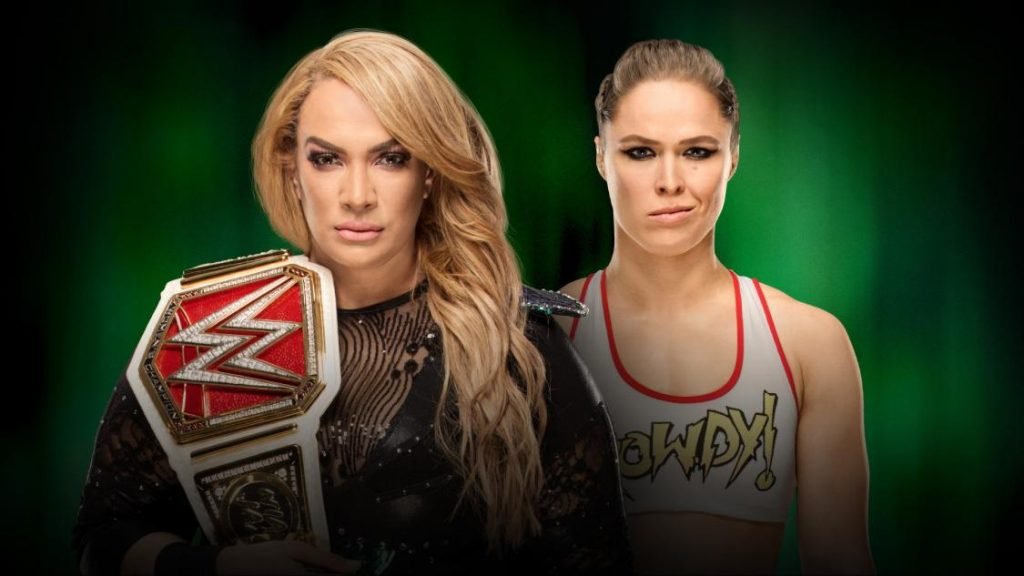 Ronda Rousey V Nia Jax(c): Yes, I have this match going on next to last. Yes, it's largely because I think Ronda Rousey will win. But this is also where I think the biggest swerve of the night will happen. Nia and Ronda will have a pretty good match. Hell, it might even be borderline brutal. Nia will for sure be the perfect dance partner for Ronda on her first night out, as she can keep the pacing of the match at a slow, methodical pace. It will still be hard hitting, and Nia will push Ronda to the limit. In the end, I think Ronda is going to lock in the armbar, forcing Nia to tap. Ronda's coronation will be short lived though, as Natalya will show up to cash in on an absolutely exhausted Ronda Rousey. Completing a long rumored heel turn, and giving all three women something to do for SummerSlam.
Last Man Standing WWE Title Match
Shinsuke Nakamura V AJ Styles(c): These two have the ability to absolutely tear it down, and I think we'll finally see what they're capable of in this match. AJ Styles has been on fire as WWE Champ, but I'm really wanting to see someone else have a go with the title now. I think this is the perfect time to put the belt on Nakamura, and let him run with it for a few months. After their last three matches, Nakamura definitely needs the win much more than AJ does, because another loss would completely delegitimize Nakamura. So, in his win, Nakamura has to remove all doubt. The only way for him to do that, is to use the closing moments of the match to completely brutalize AJ. He needs to land several vicious kicks, and maybe even multiple Kinshasa strikes to ensure Styles doesn't answer the ten count. Styles tenure as WWE Champion has been an enjoyable one, but as of Sunday, it will come to a close.
Winner: Nakamura